How to Manage Costs and
Business Risks Related to
your IT Landscape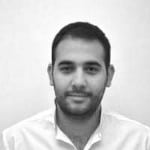 Artemios Kouniakis
Software Consultant | code4thought
What to Consider to Achieve Cost Control and Minimize Business Risks Related to your IT Landscape
How good quality software can be a catalyst for controlling costs and minimizing potential business risks?
As software becomes a material cost for organizations and a necessity to get access to existing or new customers, minimizing its cost without limiting revenue potential becomes a crucial factor to generate value for its stakeholders. Here comes the first inception of software costs. Most C-level people see the tip of the iceberg without identifying non-visible costs. The Iceberg Model presents below visible and non-visible costs.
These non-visible costs, as software usage increases, become an unexpected cost factor that should be fully acknowledged by the decision-makers. We will approach these costs by separating them into 5 main categories which represent the most crucial factors to minimize expenses.
Cost of Unsuccessful IT/Software Projects
The Standish Group has been reporting on IT project outcomes with a database of 50.000 projects. The CHAOS 2020 report (Author, The Standish Group. Title, CHAOS2020 Beyond Infinity, Link:
https://www.standishgroup.com/news/49
) released by Standish Group stated that only 35% of projects were successful, concerning time and budget. 19% of the projects get canceled before they are completed and 47% of the projects are challenged due to budget, schedule, or low-quality issues.
Cost of Poor Quality in Legacy Systems
It is estimated that the US spent $1,6 trillion in 2020 on IT, and 75% of this amount was spent on legacy systems ($1,2 trillion). Additionally, Codescene (Author, Codescene. Title, Code Red: The business impact of low code quality investigated) investigated the link between code health and time-to-market by measuring the average Time-In-Development for Jira tasks and correlating those numbers with the code health. The result was that implementing a task in code of good quality was 124% faster than in code of bad quality. The impact of poor quality code on salary and opportunity cost is more than obvious from that research.
Cost of Operational Software Failures
The latest years were dominated by software failures including ransomware attacks, cybersecurity attacks, IT outages, and data leakages which affected huge companies and millions of customers. In 2018, the estimated amount of operational software failures was $1,275 trillion. In current years, it is noticed an increasing number of failures which is an indication that the cost of failure is increasing. Additionally, Al Tamimi & co. reported that in 2018, $1 trillion of assets were stolen which is estimated to be $6 trillion in 2021 (Author, Altamim & co. Article title, The New World of Tech: Cybercrime and Cybersecurity in the UAE)
According to Stripe's "The Developer Coefficient" report, each developer works on average 41,1 hours per week, where 13,5 of them are spent on technical debt and 3,8 on bad code (that is a bit more than 25% of their working time). The estimated global GDP loss from developer time spent on bad code is $85 billion on an annual basis.
Average Developer Total Work Week
41,1 hours
Accenture published a study in 2019 with the title "The cost of Cybercrime". According to this report, in 2017 the average number of security breaches was 130 and in 2018 the corresponding number was 147 (+11%). The average cost of cybercrime is estimated to be $11,7 million in 2017 and $13,0 million in 2018 (+12%). The analysis of these costs is given below. These numbers cannot include the contingent liability and the reputation cost of such cases.
The materiality of IT spending for companies on a cost-basis
The importance of software and IT is clear after considering all the above, however, the most important question is how much the actual cost of IT spending is for companies. According to "Computer Economics", the total IT spending as a percentage of revenue is estimated to be 2,5% for 2021 as given in the chart below.
Additionally, the majority of companies are planning to increase their capital spending for their IT infrastructure, equipment, or major system development and implementation. Specifically, 53% of organizations are planning to increase their IT capital spending and 19% to decrease it.
The top priority of IT spending for companies is the Cloud infrastructure and it is expected to continue being so. Data analytics & Business Intelligence comes second as a priority with Digital Transformation, Disaster recovery/business continuity following this trend.
Finally, the headcount of IT staff is expected to increase in the following years. Specifically, 53% of organizations are planning to increase their headcount, which is the highest in recent years. Moreover, the IT spending per user has held steady despite the increasing IT spending which is a result of cloud efficiency, increased use of virtualization and automation of IT processes.
IT spending becomes more and more costly for the companies which now is estimated to be 2,5% of total revenue with software quality being very low on the priority of the budgets.
The impact of low software quality is given from many perspectives, some of them are directly related to the business functions and some others are indirect, but can become very costly or even vital for a company, an organization, or even a country.
Contradictory to its impact, software quality is part of the hidden costs which is depicted by the Iceberg Model, where Technical Debt, Understanding Complex Code and Lack of Good Practices & Quality Standards are the bottom of the Iceberg.
Additionally, most of the hidden costs are not even considered in the companies' budgets such as Technical Debt or Cybersecurity. As presented above, these costs show an increasing trend with a substantial impact on the revenue of the companies, their reputation and business continuity. The next step for a company is not just to minimize these costs, but transform them into a growth factor by investing in
Software Quality and Security by Design
.